15. As far as Salt Lake headquarters is concerned, these trees (Cypress families, Oak families, and Cedar families) are (exist; were created) for Adam ("Fallen-people"; unregenerated people)
to burn ( consume; utilize; exploit; use),  so they  take from among these trees (families; lineages; bloodlines) to warm themselves and to build fires so they can bake bread and even from which to fashion idols for themselves over which they lay "gold-leaf" (gilding; a golden appearance) and worship like gods (heroes; celebrities).  
.
.
.
.
.
.
16. Salt Lake's Melchizedek High priests burn (set on fire; generate excitement among) half of this generation Of Israel's People (rank and file Mormons) with their passion (strong and barely controllable emotion) to yoke (put to work) Israel's people.   The other half of this generation, they consume as a meal (repast; food; snacks; something to eat) . They roast (criticize; lampoon; ridicule;
lambaste) my (Jehovah's) flesh (family; "flesh and blood"; relatives; descendants; kin; kindred), and they eat their fill (satisfy their appetites). They warm (sooth; reassure; comfort) themselves by staying close to the fire (passion; excitement; enthusiasm) and sighing "Ah………..I'm so nice and warm.
*********************
                  I'm a vision of absolute prosperity, illumination, and happiness!" 
.
.
.
.
.
17. But the rest (remainder) of Salt Lake' s authorities (persons having power typically political or
administrative; sphere) they make (turn) into idols (heroes; icons; celebrities) who are Salt Lake's Gods, to whom they look for help and direct their worship and say, "Please…Save us…you guys are our Heroes!" 
.
.
.
.
.
.
.
18. These (Salt Lake's) men know-nothing (are ignorant) and they don't understand because their eyes are overlayed
(glazed; covered) to block out light and their minds (hearts; spirits) are closed (too impoverished to appreciate anything good).
.
.
.
.
.
.
19. Not a single one of them stops to think. None of them has the knowledge or the understanding to
think within themselves  (suppose; imagine) that, "Half of Israel's people are being  burned (engulfed; carried away; eaten-up; consumed) by  Salt lake's fire (passion; excitement; enthusiasm) and baked (subject to dry heat, especially to be hardened) as bread on the coals or roasted as meat (flesh and blood). Shall a detestable thing (abomination; idol) be made with what is left? Shall we all bow-down (prostrate ourselves) to blocks of wood?
.
.
.
.
.
.
20. Like the serpents that they are…..Salt Lake's men feed on ashes (Israel's people, specifically Ephraim) and their hearts (feelings) delude (mislead) them, so they cannot
save themselves but they still won't admit, "Isn't  this idol that I worship, a lie?"
.
.
.
.
.
.
.
.
.
.
21.  Remember these things, Jacob and you, too Israel, for you are my servant.  You will never be
forgotten by Me (Jehovah) and I won't…forget you in the future!
.
.
.
.
.
.
.
.
.
.
.
.
22. I (Jehovah) have swept away your offenses (wrong-doings; violations; misdemeanors; crimes) like a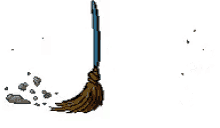 cloud of dust and dirt,  and I have lifted your sins like the morning mist.
*******************
Return to me……for I have redeemed (repurchased; repossessed;  reclaimed)  you.
.
.
.
.
.
.
.
23. Sing for joy……Ye heavens (people with whom the spirit of God feels perfectly "at home") for the Lord has done this. Shout aloud……Ye Earth (sphere where people transform their natural inclinations into permanent,  instinctive,  and unchangeable patterns of behavior)
beneath.
****************
Burst into song,  ye (plural of "thee")  mountains (governments; administrations; leadership; regimes)….ye forests (areas dominated by trees) and all your trees (lineages; bloodlines; dynasties; lines of hereditary rulers), for the Lord has redeemed (recovered; rescued; regained) Jacob's people, while He (Jehovah) displays (manifests; shows) His glory (high renown or honor won by notable achievements) thru Israel's people.
.
.
.
.
.
.
Jerusalem To Be Inhabited 
24. Thus saith the Lord…..your redeemer (savior; rescuer; deliverer),  who formed you in the
womb. I am the Lord who made all things, who, alone stretches-out (extends the hand; reaches forth) the heavens, who spread-out the Earth by myself.
.
.
.
.
..
25.  …….. who foils (derails; impedes; derails; frustrates) the signs (demonstrations;
manifestations)of false prophets and makes fools of diviners ("soothsayers"; Melchizedek High-priests who predict the future by magical means), who overthrow the learning of the wise and turns what they are saying into nonsense.
.
.
.
.
.
26. Jehovah carries out the words of His servants (prophets) and fulfills the predictions of His
messengers……who says of Jerusalem, "It shall be inhabited…..of the settlements (congregations) of Judah…..and of their ruins………I will restore (rebuild) them.
.
.
.
.
.
.
27. Who says to the watery-deep (ocean), "Be Dry" and "I will dry-up (evaporate) the streams
(perpetually cheerful Melchizedek High Priests) flowing copiously (by the thousands) through your midst. Who says of Cyrus, the Great King of Persia (dispersion; division; "spreading-talons"). He is my shepherd and will do everything that pleases me. He will say of Jerusalem, "Let it be rebuilt." and of Jerusalem's Temple (Tabernacle) , "Let its foundations be laid!"