Natzar (verb) is pronounced-naw-tzar and means: to protect; to guard; to act as sentry; to be a  sentinel). Netzer (noun) refers to a protector; a guardian; a sentry; a sentinel, and in this Isaiah context, a protector of a legacy (inheritance; endowment; birthright) of a particular dynasty (line of hereditary rulers).  Putting it plainly,  a Netzer is a descendant (scion; shoot from of the rootstock) of an ancient Dynasty (line of hereditary rulers) who inherit the bloodline's (family) birthright. The famous oracle in this chapter declares that a Netzer (descendant; new- shoot; branch) has come-out (emerged) from the stump (bottom part of a tree; root-system) of the felled (cut-down) family tree of King David's father, Jesse. The premise for this is found among many Semitic peoples.  it declares that "A-Family-Is-Like-A-Tree",  with its vital-force residing in its "root system". The people of Jesse's lineage (family) are considered to be precious scions (descendants of a notable family) in Jehovah's vineyard (plantation). For them, a glorious future awaits. In the final days, we will see a person or persons descended from the rootstock (primary source from which offshoots have arisen) from Jesse (the biological father of Israel's famous King David) arriving on the scene. Such a descendant (scion) will (must) possess all the patrilineal-genetic qualifications of King David of the Old Testament, but this descendant (scion) will have a latter-day commission to fulfill.
.
.
1. A shoot (descendant; branch; sprout; shoot)  has emerged from the roots (rootstock) belonging to the Dynasty (line of hereditary rulers) of Jesse (King David's Father) and from Jesse's royal bloodline,  a branch (descendant; daughter; shoot) has born good (functional; useful; suitable)  fruit (effects; results).
.
.
.
.
.
2. The spirit of God endows (blesses; providesfurnishes) this descendant (shoot; sprout) with the spirit of wisdom (piety toward God), the spirit of
understanding (intelligence; insight)  and a sense of  purpose (meaning)  coupled with knowledge-of (intimate-acquaintance-with; communion-with)  Israel's God.
3.  Jesse's descendant (scion) fears (reverences) the Lord, God of Israel and makes no judgments based on what the eyes see,  nor decides in a dispute based on what the ears hear.
.
.
.
.
4.  Sentences  (verdicts; punishments judgments) pronounced (voiced; vocalized; proclaimed; uttered; delivered) by Jesse's descendant are for the sake of (to help; to benefit)  the poor and needy (Israel's people Rank and file Mormons). The sentences (verdicts; punishments; judgments) pronounced by Jesse's descendant are rooted (established) in righteousness  (justice) so men who lie-in-wait (ambush; make surprise attacks from concealed positions),  against Jehovah's Saints (Holy-Ones; angels) are convicted.   Then, the entire leadership of The Church of Jesus Christ of Latter-Day-Saints will soon be struck ("dealt-a-blow"; devastated) by the punishing rod (staff; authority; power; dominion) in the hand of this surprise shoot (descendant; branch; sprout) from  Jesse's dunasty.
5. Righteousness (uprightness; moral integrity)  girds (equips; prepares; surrounds) the loins ("potency"; flanks) of Jesse's descendant (scion) and trustworthiness (reliability) is the sash (waistband; belt; girdle) around his descendant's (scion's)  waist.
.
. 6.  Mormon Wolves  (priesthood-predators in sheep's clothing) are  tarrying (lingering; staying; keeping company with) amid (surrounded by; in the middle of) Jehovah's  lambs (innocent-disciples), while Salt Lake's leopards  (defiled and spotted-priesthood-leaders)  assemble (muster; rally; gather; convene) all the goats (high priests who ambitious, aspiring, enterprising) among Israel's people. They lie-in-wait-for (conceal themselves, waiting to catch) Israel's people (rank and file Mormons) in order to ambush (sneak-up on)  them while there is apparent peace and security. In this way, Salt Lake's top-leadership facilitates (simplifies; greases-the-wheels-on; speeds-up; opens-doors-for; makes-easy) the Melchizedek Priesthood Organization's massive "fraud" (criminal deception intended to result in financial and personal gain).   Salt Lake General Authorities are fatted-bulls (pampered-leaders; coddled-commanders;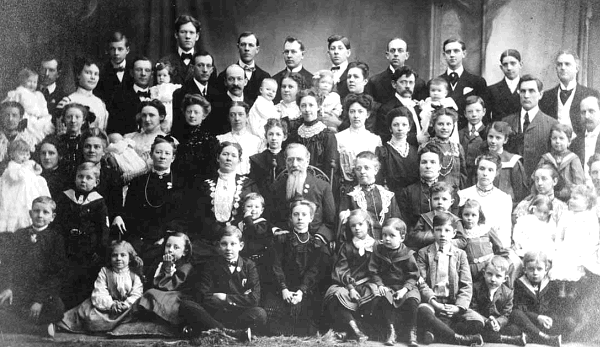 favored-captains; spoiled-priesthood authorities who've been waited upon hand and foot all of their lives).  They've amalgamated-themselves (united themselves to form one single-minded family-organization)  because  their forefathers were all participants in polygamist marriages with Israelite women, consequently their hybrid offspring (children) have been shown how to pretend (speak and act so as to make it appear that something is the case when in fact it is not) to be a solicitous (caring; thoughtful) leadership-aristocracy, while they drive (coerce; hustle; press; push; shove; goad; hound) Israel's people (rank and file Mormon people) before them, like cattle.
.
.
7. So,  Mormon (rank and file Mormon) men who are yoked (chained; harnessed) together,  but move-too-slowly ( are too sluggish; aren't enthusiastic enough) to suit Salt Lake's purpose are constantly cajolled  (wheedled; seduced; buttered-up; sweet-talked; flattered; coaxed) by  priesthood authorities, in an attempt to activate-them (make them active and operative). But these Prophets of Salt Lake City lie-in-wait-for,(conceal themselves, waiting to catch) Israel's people (rank and file Mormons) while they mass-produce (as of 2016, produce nearly 80,000  priests thru the church's mandatory missionary program) then they crown (enthrone; install; invest) Salt Lake's "Fatted-Oxen" (pampered-leaders) Israel's monarchs.
.
.
8. The spiritual-infants (General Priesthood Authorities) reigning at Salt Lake headquarters look to (depend-on; rely-on; are sheltered in) the "Pit" (lair;  hide-away; nest; sanctuary; hide-out; habitat) of an encircling (enfolding; strangling; suffocating) "Cobra-men"  (highly venomous snakes). Salt Lake headquarters is the bastion (bulwark; the stronghold; citadel) of these serpents (sly and treacherous men, who exploit a position of trust in order to betray that trust).  They exercise priesthood-power by focusing (guiding; concentrating) Israel's attention on the "doorway" (portal; opening; entrance) leading to "Assyria"  ("Guaranteed social popularity and financial security thru unwavering allegiance to Salt Lake's Melchizedek Priesthood Organization").