The root verb Natzar is pronounced-naw-tzar and means: to protect; to guard; to act as sentry; to be a sentinel). The noun Netzer refers to a protector;  a sentry; a sentinel, and in the context of Isaiah's book, it means Guardianship.  And, guardianship is the legacy (inheritance; endowment; birthright) of Israel's dynasty (line of hereditary rulers).  In other words,  a Netzer is a descendant (scion; shoot from of the rootstock) of Israel's ancient Dynasty (line of hereditary rulers). Each of these rulers inherits Israel's birthright.
The famous oracle of Isaiah's Chapter Eleven declares that a Netzer (guardian; descendant; new-shoot; branch; daughter) has come-out (emerged) from the stump (root-system) of the felled (gradually gone away or disappeared) family tree of belonging to King David's father, Jesse. The premise for the "Tree Is Like A Family" metaphor,  is found among many Semitic (Shemite) people.  It declares that "A-Family-Is-Like-A-Tree",  with its vital-force  (spirit; soul; deepest-desires; "life-principle") originating (springing; rising) from in its "root system". The people of Jesse's lineage (family) are considered to be the most precious scions (descendants of "the" most-notable family) in Jehovah's vineyard (Israelite-plantation). For them, a glorious destiny awaits.
In our day (generation; era; time), we will all see (witness) when the latter-day branch (daughter)  of Israel's family tree who, having sprouted (grown; emerged) from the rootstock (ancestry) of Jesse (the biological father of Israel's famous King David),  "arrives-on-the-scene" (Arrives to change the existing situation).  She (Yes…its a woman!) has (possesses) the very same patrilineal-genetic qualifications as King David,  of the Old Testament, and she will have to fulfill a latter-day commission among Israel's people similar to that of King David.
.
.
1. I have emerged from the root system (ancestry;  rootstock) of Jesse (King David's Father's)  and directly from Jesse's royal bloodline.  As a branch (daughter) of Jesse,  I have brought-forth good * (functional; useful; suitable)  fruit (effects; results).
.
*

good-is here,  used as an adjective that describes something or someone who fulfills the purpose for which it was created.
.
.
.
.
.
.
.
.
2. Jehovah, the God of Israel,  girds  (encircles; surrounds) me with the spirit of wisdom (piety toward God),
the spirit of understanding (intelligence; insight)coupled with and a crystal-clear sense of purpose (meaning)  because of my personal–knowledge (intimate-acquaintance; communion-with)  Israel's God.
.
.
.
.
.
3.  Because I am Jesse's latter-day descendant (scion; heiress; successor), I fear (feel-anxious and loss of courage) in the presence of the Lord, God of Israel, just as Jesse did.    I don't make judgments about people or things based on what my eye sees (my eyes have been fooled before), nor do I decide (judge)  in a dispute based on what my ear hears. (I really don't care much about "What others have opined about a person)
.
.
.
.
4. 
Every Sentence  (verdicts; punishment judgment) I pronounce (voice; speak; vocalize; proclaim; utter; deliver) is done for the sake of (to help; to benefit)  the poor and needy (Israel's people;  rank and file Mormons). My sentences (verdicts; punishments; judgments)  are rooted (based)  in Israel's right  (that which is morally correct, just, or honorable; legal entitlement) to make sure that Melchizedek priests are convicted (declared to be guilty of a criminal offense by the verdict of a jury; serve time in prison).   And, the entire leadership of The Church of Jesus Christ of Latter-Day-Saints will soon be struck ("dealt-a-blow") by the punishing rod (staff; authority; power; dominion) in my hand.
5. Righteousness (uprightness; moral integrity)  girds (strengthens;  surrounds) my loins ("procreative-power")  and trust (confidence in Jehovah) is the sash (waistband; belt; girdle) around my waist.
.
.
.
.
.
.
. 6.  Salt Lake's Wolves  (Predatory Melchizedek high-priests in sheep's clothing) are tarrying (lingering in expectation; waiting) amid (surrounded by; in the middle of) Jehovah's  lambs (beautiful young women), while Salt Lake's leopards  (priesthood-leaders who are defiled and "spotted-of this world")  gather (collect) all the goats (personally ambitious men) among Israel's people. Salt Lake's men eagerly lie-in-wait-for (will wait-to-catch) just this very kind of an ambitious man among Israel's people (rank and file Mormons). This kind of man will agree to set-up (prepare; organize; institute) traps to catch Israel's people while there is apparent ("seeming real, but not necessarily so") "Peace and Security". In this way, Salt Lake's top-leadership facilitate ("Grease-the-wheels-for") the Melchizedek Priesthood Organization's massive "Latter-Day Fraud (criminal deception intended to result in financial and personal gain).   Salt Lake General Authorities are "stall-fed-bulls" (pampered-leaders; coddled-commanders;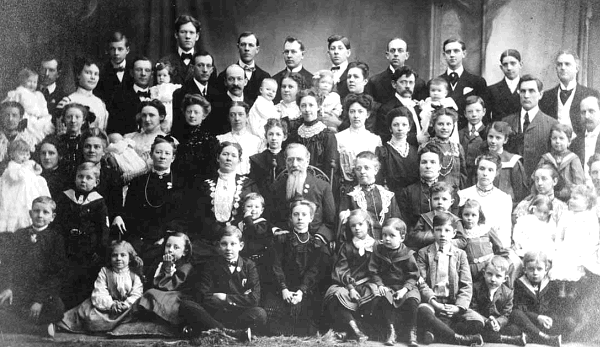 favored-captains; spoiled-priesthood authorities who've been waited upon hand and foot by women throughout their lives).  Their families have amalgamated-themselves (united themselves by marriage to form one single-minded family-organization). 
Because nearly all of Salt Lake's prophets and apostle's Ancestors (forefathers)  were actively engaged in polygamist-marriages with Israelite women……their hybrid (schizophrenic)  offspring (children) have seen "who knows how many" generations of teachers and examples (demonstrations) of how to:
(1) pretend (speak and act so as to make it appear that something is the case when in fact it is not)
(2) appear (seem; give the impression of being) solicitous (caring; thoughtful) leadership-aristocrats, but while they think no one important is watching (able to see them), they join their fellows to drive (coerce; hustle; press; push; shove; goad) Israel's people (rank and file Mormon people), like so many head of cattle.
.
.
7. But,  middle-aged Mormon (rank and file Mormon) men who are yoked (chained; harnessed) together, tend to move too slowly (be too sluggish; lack the enthusiasm) to suit Salt Lake's purposes.  So, priesthood authorities are more or less constantly cajolling  (whipping-up; wheedling; seducing; buttering-up; sweet-talking; flattering; coaxing) Israel's men,  in an attempt to activate-them (make them active and operative).
But these Prophets of Salt Lake City derive "special" pleasure as they "lie-in-wait-for",(sneak-up on; ambush) Israel's people (rank and file Mormons), even though they mass-produce (as of 2016, nearly 80,000) Priests, and crown (enthrone; install) one another,  as Israel's Great-Latter-Day-monarchs.
.
.
8. The spiritual-infants (General Priesthood Authorities) reigning at Salt Lake headquarters look to (depend-on; rely-on; are sheltered in) the "Pit" (Melchizedek Priesthood Organization) writhing (billowing) with a network of "Serpents"  (sly, treacherous men who exploit a position of trust in order to betray it). Salt Lake headquarters is "the" bastion (bulwark; the stronghold; citadel) of serpents (sly and treacherous men who exploit a position of trust in order to betray it)  They exercise priesthood-power by focusing (guiding; concentrating) Israel's attention on the "doorway" (portal; opening; entrance) to "Assyria"  ("The notion of guaranteed social popularity and financial security thru unwavering allegiance to Salt Lake's Melchizedek Priesthood Organization") and telling them that  they missing out on a lot of popularity and security if they don't come through the "Door of the Nobles", as it is called,  into the Melchizedek priesthood Organization as soon as is humanly possible. One is said to "Enter the Priesthood, rather than receive it." In fact, some have conceived the priesthood as an invisible power (ability; force) that is worn (surrounds the body) The "Door of the Nobles" is an overture (invitation; "a pass"; opening; !st step in a process)  Salt Lake's presiding high priests are making an overture (opening; first-step in a process) to capture Israel's men. But their Door only allows entry into a trap * for any Israelite (rank and file Mormon)  male who enters through it.   One is said to "Enter the Priesthood, rather than receive it." In fact, some have conceived the priesthood as an invisible power (ability; force) that is worn (surrounding the body)